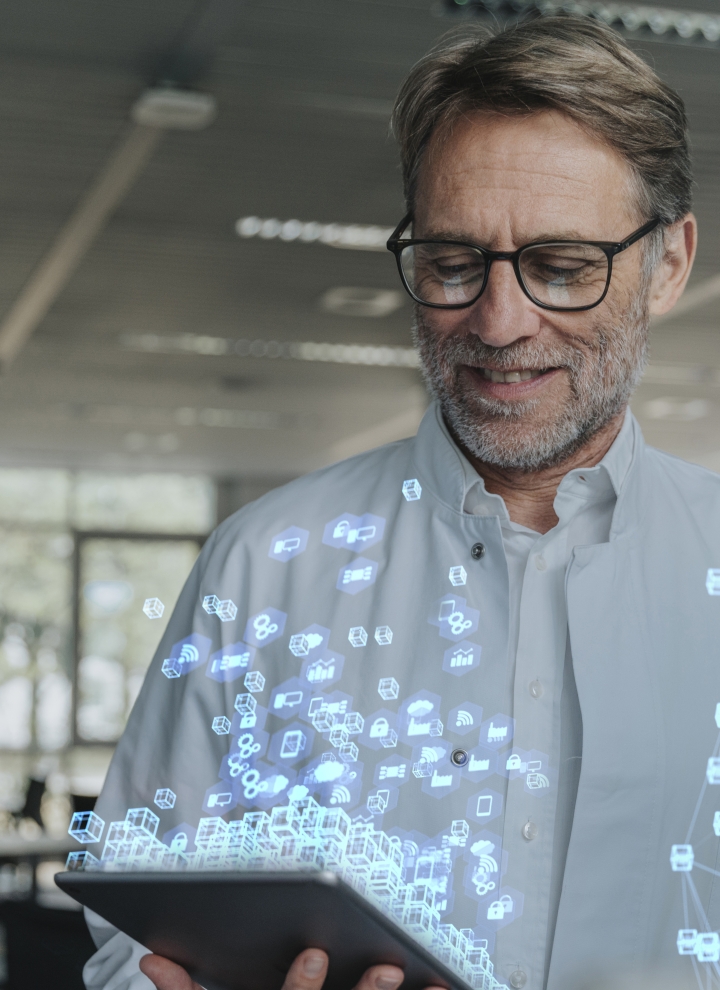 Blog
The Business Purpose of Digital Twins - Creating Intelligent Ecosystems in Real Estate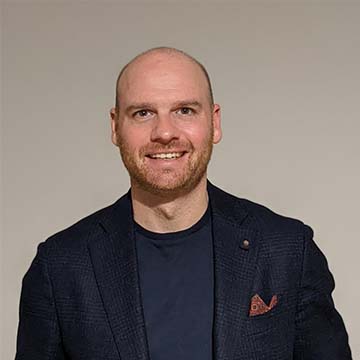 Björn Burbach
The real estate sector is in a period of reckoning in which digital transformation holds the key to the future.  
Why is digitalization in buildings, campuses and districts so important – if not vital – to the wellbeing of the people who live and work in these? There are many reasons: increased flexibility, greater efficiency, enhanced communication, greater employee satisfaction – the list goes on. 
So digital transformation has become a must, but this poses a number of challenges. According to a recent study, only 33% of commercial real estate companies feel they have the skills needed to operate a digitally transformed business. And just 45% plan to increase their investments in key technologies – like the cloud and digital channels.  
Many organizations find it difficult to identify and track the ROI of digitalization initiatives and only 10% of executives state that they are able to measure the ROI of their digital initiatives, whereas 90% can't. This is largely because teams will focus more on the 'how' and 'what' of the transformation e.g. the technology, which on their own might not amount to much, instead of the all-important 'why' – which is to unlock business value and future-proof operations. Digital transformation needs to have a holistic approach to lift a business to the next level of e.g. efficiency and prove that it's worth the investment. 
In the midst of this change, many new, digital-first Prop Techs are entering the market with a boosting venture capital spend of 31 billion euro alone in 2019 and technical innovation across the entire digitalization stack. This poses a challenge for established organizations to determine where to prioritize their digital transformation efforts and which technology to be used to reach their anticipated goal. And as they adopt new technologies and gather vast amounts of data from their customers, building sites, and more, companies aren't always sure what to do with that information, or which potential they already have in their own pocket. 
There are additional layers of change and complexity, like the shift to mixed usages buildings, creating living environments in cities with a lot of new functionalities at one location, or the increasing pressures for the real estate market to improve their impact on the environment where buildings alone contribute to 40% of carbon dioxide emissions globally. If they want to meet global net zero targets by 2050, real estate developers, managers and operators have to do everything they can to decarbonize real estate – that might include retrofitting existing buildings and rethinking how they build new ones and most important gain the transparency needed to define interventions of their existing asset portfolio. 
In addition, Covid adds pressure on the real estate market to maximize usage of their property and put the highest priority on people who live, work and visit their assets and bring back life into the buildings via e.g. hybrid models, through hygiene concepts and new work space convenience which will become a default to increase productivity of the workforce and to attract new talents to grow the business.     
To address these challenges head on, as well as the very real challenges posed and highlighted by the current global crisis, real estate leaders need a more holistic strategy to transform their business with new stakeholders on the decision table across the C-Level of the organization like HR, Operations, IT, CDOs and other executives to play out the advantage of data rich technologies that provide a clear, big picture able to zoom into precise (near) real time data to enable effective decision making. This is where digital twins for intelligent environments like buildings, campuses and districts can play an important role – one that sets the real estate industry apart as it steps into the future. As the environment is diverse and customer needs are different, the shape of the twin always differs and can range between simple KPI dashboards to interactive 3D self-learning building representations.   
Connecting the real and digital world with digital twins
In the real estate sector, digital twins act as a bridge between the real and digital world, where smart buildings and campuses feed information to a virtual environment, the digital twins enabled by the right digital strategy, IOT devices, system integration, cloud computing and analytical models. The digital twin can then use near real-time and historical data to simulate thousands of scenarios and help assess the impacts of different decisions at each stage of the real estate life cycle. As those intelligent ecosystems are continually evolving, the digital twin needs to adapt to new requirements, functionalities and KPIs, to scale through the digital transformation journey of each individual user.  
Why digital twins are creating value for the real estate industry
Digital twins present a wealth of opportunities for the real estate sector, addressing many of the challenges that are changing the way they operate buildings to increase the ROI and to address the business properly. Each of the below listed categories needs to unfold in multiple use cases (applications, new processes, KPIs) to aggregate to a powerful tool supporting the business and its transformation journey.  
Comprehensive insight. A digital twin for a building, campus or district provides a holistic view into the collection of assets, and visibility on how well they work together.  
Enhanced health and wellbeing. Understanding tenants, visitors and employees also enables building managers and developers to focus on improving their comfort and wellbeing. This way, the building responds to the humans, and not the other way around. Having a strong IOT backbone and a scalable digital twin helps to enable such a living place by combining multiple data sources needed for a seamlessly functional intelligent building environment. 
Sustainability & move to NetZero. Digital twins offer insight into for example energy and water consumption to uncover optimization opportunities which enable real estate stakeholders to move towards carbon neutrality and create a positive impact for the environment and their own bottom line.  
ROI generation. With the right data, decision makers can choose approaches that enhance the return on investment and increase the value of the assets. This can become increasingly comprehensive through capturing all transition costs like process and tools, skill development or change management. But also keeping in mind costs that come with the technology stack in form of SaaS, support & maintenance, software development costs for applications, IoT platforms, communication & networks and IoT devices. 
Predictive maintenance. By analyzing data such as from the BMS, weather forecast, energy usage and other key factors, a digital twin can enable a proactive approach to maintenance across the building portfolio. 
Improved space usage. With a robust understanding of tenants and their habits, real estate managers can optimize how their space is used. This is particularly important for office buildings and mixed usage buildings in a post-COVID era.  
As they address each of these elements, digital twins offer a tangible approach to digitizing process-driven operations – while also establishing a foundation for the real estate sector to address long-term global challenges.  
The challenges being met head on by digital twins
As well as large-scale challenges that digital twins are helping the sector address, many of the obstacles that real estate professionals face day-to-day can be remedied by this data-rich technology.  
Lack of insight to achieve ESG goals 
With increasing pressure for the real estate sector to tackle ESG, a digital twin can offer full transparency into what processes and functions have the largest impact on environmental, sustainability and governmental KPIs.  
With this information, owners and facility managers can define interventions to reach their anticipated goals across their portfolio. By integrating additional non-real estate data like traffic and weather, additional correlations can be drawn to improve their ESG KPIs. 
Data silos everywhere 
Segregated data is a challenge in most industries, but it's especially true in real estate. With multiple, decentralized buildings, different years of construction, and even more stakeholders, insights are stored in different formats and locations, making it difficult to get a clear picture of the portfolio.  
From BIM to Digital Twin 
Taking a Building Information Modelling (BIM) of an individual building and taking it to the next level with a digital twin which connects several buildings and campuses involves the amalgamation of dynamic and static data from multiple sources. This enables the company or organization to access real-time data on how the building is performing according to KPIs from the strategic to the functional.   
Consolidating data into a single pane of glass, a digital twin platform with multi-vendor system integration allows full asset transparency and advanced analytics that for example enables real estate owners to benchmark buildings, prevent system failure and enhance performance. 
Unplanned asset downtimes 
More often than not, building managers are responsive – not proactive – when it comes to addressing issues in their buildings. This negatively impacts the tenant experience and can prove a costly approach.  
A digital twin can use machine learning models to predict when something will fail, prompting managers to book a contractor and giving them all the information they need about the item being updated. This approach saves money and time while also protecting the manager's reputation.  
Untracked asset performance 
Real estate owners and managers will often set out objectives and targets for their portfolio of real estate, but it's not always easy to track against those. Traditionally, they use static data to retrospectively measure performance — but that makes it difficult to adjust systems and processes in a proactive way. 
Combining the real and digital world, new information can be extracted in near real-time alongside other external factors like weather conditions, occupancy scheduling, and human impact. This way, business owners can stay on top of performance and use it to make decisions around the rest of their portfolio. 
Building the right, best suited digital twin
Technology is inspiring every industry to realize the art of possible and high-tech seems to solve every problem. Introducing 'a digital twin' and its embedded functionalities and applications without a clear business purpose is costly, will take time and in the worst case will not be accepted by operators, tenants or investors as it stays a digital tool without real business impact. 
 
The most important goal is to define the human and economic benefits and balance those against technical possibilities to create the right digital twin solving the anticipated business needs via individual software development, pre-defined SaaS products /solutions or a mix of both. 
Digital twins can be simple digital representations of one business problem or technically complex when covering a diverse ecosystem and a comprehensive set of KPIs, plus they can be resource intensive to build. In all cases they're worth the investment when having the right strategy laid out for the business improvement needed.  
Getting the digital twin right requires a few critical steps:  
Setting clear business goals that identify tangible use cases for the digital twin, clearly defining why a digital representation is needed and what it shall improve, by incorporating the existing data landscape to build up on an existing environment.  
Defining the ROI for the anticipated goal. This step is critical and includes a back-and-forth balancing business and technical requirements which leads to digital twin 'strawman'. 
Designing the digital twin. Now high-tech comes in place to select the right technology for the right usage with a clear budget in threshold to ensure that the digital twin covers the business goals and gives the solution experts the boundaries needed to suite the digital twin into the business.  
Implement the twin. A critical factor for success is the first go-live of the twin in an agile mode to ensure all technical interfaces are set, but also to prepare the organization for their first transformational step potentially changing the way how operations are run, how transparency has been gained and decisions are made. 
Scale the solution. A digital twin is not a one-off. It's a digital representation of the business and therefore needs to have the adaptability to scale and adapt along with the business itself. In step 1 this has been defined properly so scaling the twin across the real estate portfolio will need to be a natural step in the business strategy to start the journey of a digital transformation of the business.  
Digital twins are a market differentiator. As the real estate sector faces a new era of digital transformation, this innovative, intelligent technology helps address a lot of the challenges that established organizations are navigating. This data-rich approach is key to proving the ROI of any change – digital or physical – in real estate. It also levels the playing field, bringing legacy and disrupting businesses together as they collectively tackle necessary changes in how complexes are built and operated. To top it off, digital twins have a significant impact on efficiency, cost reduction, operational intelligence, and decarbonization – all factors that will future-proof the sector as we head into the next decade.  
Our contributor
Meet the expert behind the article.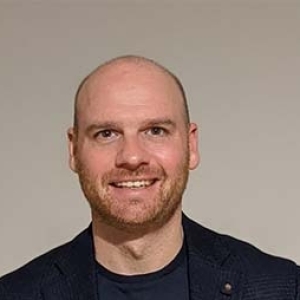 Björn Burbach
Regional Solution Head Buildings Campuses & Cities EMEA