Webinar
From Isolation to Cooperation - The End of One-Way Digitalization in Production and Mechanical Engineering
Thursday, December 9, 2021. From 03:00 PM till 04:00 PM (CET)
Watch now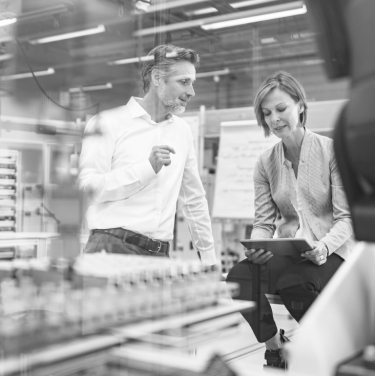 SUMMARY - Webinar held in German
The current digitalization landscape is characterized by proprietary offers. From gateway to apps, there are countless, isolated point solutions which make it challenging for component manufacturers, machine builders and operators to generate overarching added value.
In this webinar, our experts Franz Mattes and Martin Reichenbach will show you how you can end this one-way digitalization and start to profit from the broad usability of data and an unprecedented cooperation landscape.
Therefore, our speakers will give you an overview of where the industry currently stands and will share their vision for the digital future. They will address the growing importance of the edge layer, will outline a new integrative architecture, and will shed light on new types of cooperative approaches that can be used across the industry.
Siemens Advanta and AIT GmbH bundle their know-how from IT and OT to give you this exciting outlook into the digital future.
Curious? Watch now!
Please note that this webinar is held in German.
| | |
| --- | --- |
| Title: | From Isolation to Cooperation - The End of One-Way Digitalization |
| Date: | Thursday, December 9, 2021 |
| Time: | 03:00 PM Central European Standard Time |
| Duration: | 1 hour |