Webinar
Software Containers at the Edge: Ending Isolation in Production and Mechanical Engineering
Thursday, March 3, 2022. From 03:00 PM till 04:00 PM (CET)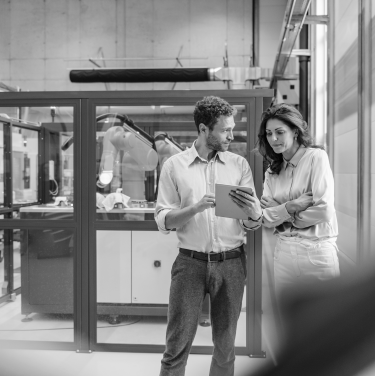 SUMMARY - Webinar held in German
Meet the challenges of the current, proprietary digitalization landscape in production and mechanical engineering!
In this webinar, our industry experts Franz Mattes and Benjamin Boost will explain the challenges of prevailing isolated point solutions, will show you how to overcome this one-way digitalization and instead start profiting from the wide usability of data and an unprecedented landscape of cooperation.
Further topics will be: Which roles are there in increasingly complex digitalization projects? Why is there a growing importance of the edge layer? What new cooperative approaches can be used across the industry? What can a new integrative architecture for production and mechanical engineering look like?
Our speakers will also provide you with practical use cases from medium-sized plant and machine builders and take time to answer questions about your personal digitalization project.
Curious? Watch now!
Please note that this webinar is held in German.
| | |
| --- | --- |
| Title: | Software Containers at the Edge |
| Date: | Thursday, March 3, 2022 |
| Time: | 03:00 PM Central European Standard Time |
| Duration: | 1 hour |