Advanced Analytics
Harvest your data to create impact with new digital services and data-based business models – for greater efficiency and incremental value.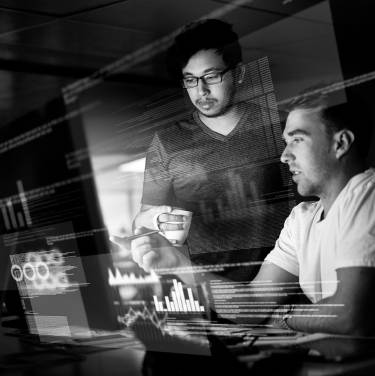 Overview
At Siemens Advanta, connecting the physical and digital world is part of our DNA, and Advanced Analytics (AA) is THE major lever for turning your data into business value. With our AA offerings, we can help you develop your existing business as well as create new business models that catapult your company to the next level in your industry.
Furthermore, by connecting the physical and the digital world, we are able to achieve new dimensions of customer value unimaginable in a disconnected environment. Together with you, we unlock opportunities for real end-to-end solutions that are tailored to your individual needs.
HOW DO WE SUPPORT?
The 6 steps that detail how we generate value for your business:
1
Raw data
Analytics ingredients: we use and process data from all relevant sources – ERP to sensor, static to stream, structured to text, sound and image – that most effectively and efficiently contributes to the solution of the business problem.
2
Data preparation
End to end transparency: we enable end-to-end transparency on processes by integrating and transforming data sources from the cloud and on-premise servers, regional hubs, and decentral processes.
3
Statistics
Robust solutions: we employ sophisticated statistical analyses and simulations which let us evaluate the quality of the data and how well trends and relationships in the data support new business insights.
4
Advanced modelling
From data to information: we use appropriate machine learning methods ranging from unsupervised approaches for anomaly detection to deep learning for text analytics and image recognition to extract novel information that makes the data actionable.
5
Visualization
User centric interfaces: we place the user at the center of all interfaces to our analytics – taking different requirements regarding display and interactivity for distinct audiences for the best possible user experience.
6
Deployment
From POC to production: we overcome the 'POC dilemma' - the challenge of turning good ideas into actual products – and make our solutions productive by understanding your infrastructure and leveraging our development and deployment expertise.
MAKING IT ASSET DATA AVAILABLE AND USABLE
IT asset management is key to cyber security. But it is often highly manual and ineffective due to a lack of data integration. It is highly important to make available IT asset data usable. Therefore, to connect data sources and ensured real time analytical readiness using a tailored data model which put our client in the position to understand the interconnectedness of the IT assets, detect anomalies and identify potential within the IT landscape.
Read the story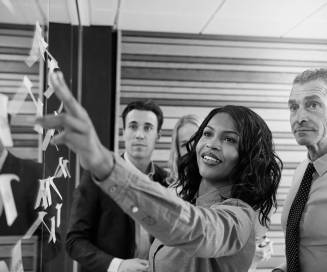 DEFINING AND GROWING AN ANALYTICS TEAM
We helped our client to build up their own competencies in AI and advanced analytics. Businesses need to deliver value to their customers in increasingly competitive industries. Speed, efficiency, precision, and availability are only some drivers of today's market environments regardless of the industry. Sophisticated digital solutions are a key asset. Our customer envisioned own capabilities to deliver and develop analytics solutions to drive efficiency in their own business functions and deliver better solutions for their customers.
Read the story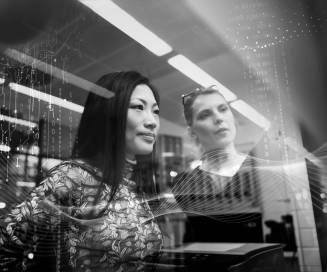 COMPLEXITY MANAGEMENT WITH ADVANCED ANALYTICS
The typical product portfolio of an industrial company is a complex, historically grown catalogue. This makes it hard to understand which products, in fact, demonstrate a positive impact on the bottom line. With our end-to-end analysis, we determined the true profitability on the most granular level. Taking the different perspectives of product, customer, and sales channel into consideration, a comprehensive cost driver tree was evaluated in order to identify profitability levers, perform scenario simulations and drive systematic product portfolio analysis for our customer.
Read the story
Experts
Get in touch with our experts to discuss how we can work together to solve any of your advanced analytics challenges.