Advanced Analytics
Dig deeper into your data for insights that make an impact and boost your bottom line.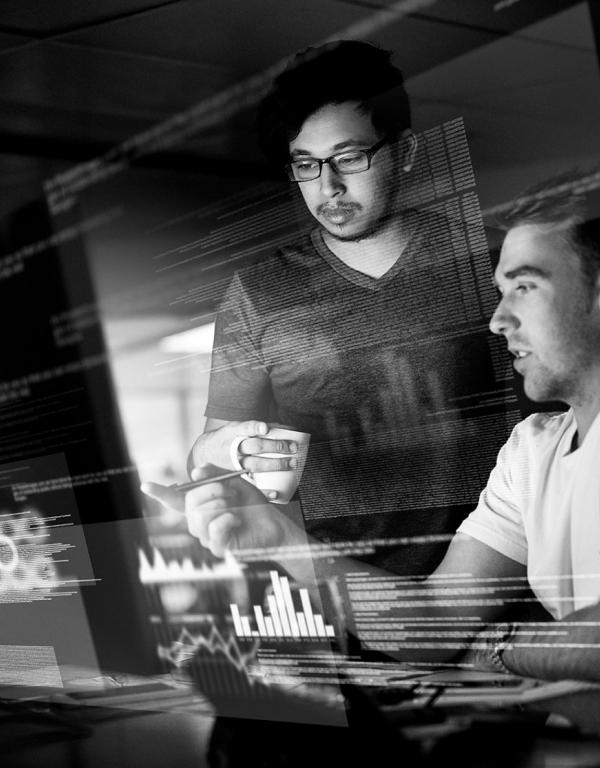 What is the concept?
Advanced Analytics is THE major lever for turning your data into business value. We help you develop your existing business as well as create new business models that catapult your company to the next level in your industry. By connecting the physical and the digital world we can achieve new dimensions of customer value unimaginable in a disconnected environment. Take machine learning and predict sales for next year. Use Monte Carlo simulations to prepare your financials for different realities. Use convolutional neural networks to detect and censor images to comply with data privacy. Automate your processes with Robotic Process Automation, digitize and analyze countless documents with optical character recognition and natural language processing and boost productivity and output of your organization. Together, we can unlock opportunities for real end-to-end solutions that we tailor to your individual needs.
For us at Siemens, connecting the physical and digital world is part of our DNA. We infuse cutting edge analytics with our deep industry understanding – a unique position to partner with you. We look forward to accompanying you in your own digital transformation! 
To see how we have collaborated with other customers, visit our showcase gallery or reach out to us directly.
 
The Advanced Analytics Value Chain
See the 6 steps that detail how we generate value for your business:
 
1
Raw Data
Analytics ingredients: we use and process data from all relevant sources – ERP to sensor, static to stream, structured to text, sound and image – that most effectively and efficiently contributes to the solution of the business problem.
 
2
Data Preparation
End to end transparency: we enable end-to-end transparency on processes by integrating and transforming data sources from the cloud and on-premise servers, regional hubs and decentral processes.
3
Statistics
Robust solutions: we employ sophisticated statistical analyses and simulations which let us evaluate the quality of the data and how well trends and relationships in the data support new business insights.
 
4
Advanced Modelling
From data to information: we use appropriate machine learning methods ranging from unsupervised approaches for anomaly detection to deep learning for text analytics and image recognition to extract novel information that makes the data actionable.
 
5
Visualization
User centric interfaces: we place the user at the center of all interfaces to our analytics – taking different requirements regarding display and interactivity for distinct audiences for the best possible user experience.
 
6
Deployment
From POC to production: we overcome the 'POC dilemma' - the challenge of turning good ideas into actual products – and make our solutions productive by understanding your infrastructure and leveraging our development and deployment expertise.
 
Embedded Analytics
Let's not forget: Advanced analytics is part of the bigger picture.
To deliver the expected value, we must go beyond the technical approach to a problem solution! After all, digital transformation is first and foremost a transformation.
Our years of experience have guided us to embed advanced analytics appropriately into the context of ideation and customer co-creation, change management, a focus on return on investment and the right amount of senior leadership support. This embeddedness turns promising prototypes into a success engaging your entire organization in your digital journey!
 
ALL SERVICES
Explore our entire services and solutions portfolio below.
Experts
Get in touch with our experts to discuss how we can work together to solve any of your advanced analytics challenges.