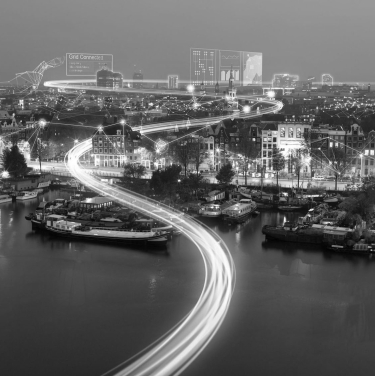 Monitoring and prediction of air quality in the city using sensor-, traffic - and weather forecast data. Simulation of up to 17 short term measures (e.g. Diesel ban) and their impact on Nitrogen Oxide and particulate matters with an accuracy rate of almost 90%.
1
Collect all historical data to build up the AI System (neuronal network).
2
Achieve high accuracy rate in the AI forecast model.
3
Develop a software solution deployable in Europe, US and China.
Our Approach
CyAM was deployed together with the Vice Mayor of Nuremberg in charge for environment and the transportation department which whom we defined the data transfer and interfaces.
What did we change for the customer?
High accuracy air quality prediction of the next 5 days on sensor station level.
What did we build for the customer?
1st digital solution in Germany to tackle air quality and using Artificial Intelligence to manage air quality in the city.
What's next?
The city will communicate these values to their citizens, also to gain awareness for upcoming restrictions in transportation in order to mitigate emissions exceedance.
Our Impact
Impact of measures on air quality, awareness for citizens.
Hide Default Navigation Bar
Off