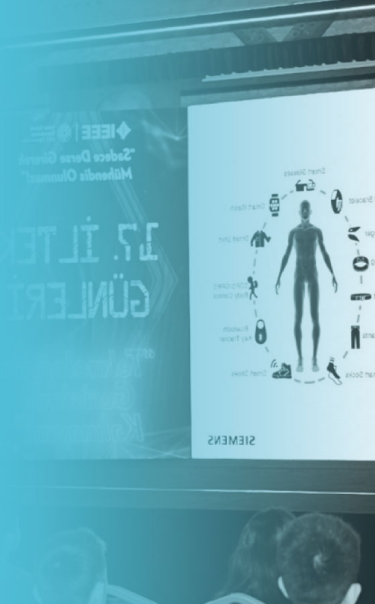 MEET TUGAY
"The technology realizes a future we are all waiting for." – Osman Tugay Basaran, 5G Researcher at Siemens Advanta Development
THE FUTURE WE ARE ALL WAITING FOR
Tugay is a researcher in the 5G Research Group of the Technology & Innovation Team at Siemens Advanta in Turkey. His group conducts R&D for industry and factory applications requiring advanced 5G Networks with Ultra Reliable Low Latency Communication (URLLC). Owing to the high reliability of these networks, the realization of mission-critical application areas such as real-time AR-VR, industrial automation, smart transportation, grids, and even remote surgeries is possible. Technology realizes the future we are all waiting for, and through 5G URLLC, synchronous operation of automated guided vehicles in factories, reliable communication between self-driving cars, and an enriched environment of V2X Networks in smart cities will all come alive.
WORKING TOWARDS VISION
At the 5G Research Laboratory at Siemens Advanta, Tugay is responsible for the establishment and functioning of the Technology Innovation Team in Istanbul and plays a role as an internal technical product owner. One of his main jobs is to coordination of research synchronizations between the Istanbul 5G Research Team and international development teams who take part is the group's global 5G Research Project. This research group aim to reduce network latency and increase determinism and reliability.
The research activities I am involved in at Siemens Advanta consist of state-of-the-art projects. In fact, it is vital for an engineer to gain experience in innovative projects and have access to cutting-edge tools. You realize that you are working towards a vision in every task, and the technical competence and experience of my colleagues are extremely valuable both to the project and my individual learning on the job.
FLOURISHING WITH ADVANTA
Within Siemens Advanta, Tugay can work on numerous exciting R&D projects and thus progress further. Communicating challenges and aspirations here in Advanta is smooth and easy, and the managers contribute to this by being extremely sincere toward the growth of their team members. The research activities for Siemens Advanta's state-of-the-art projects require the involvement of diverse teams and specializations, risk-taking abilities, and openness to new ideas. These, as Tugay says, are all available in his research environment, which is always open to employee passions – and that is what he values.
HERE FOR THE NEW GENERATION
Tugay loves Siemens and actively shares and advocates his passion for his industry in international conferences and forums, which Siemens Advanta encourages him to attend. He enthusiastically shares his career experience with the younger generation and regularly participates in Career Days, which take place across multiple Turkish universities. He can thus introduce the present world of innovators to the potential future ones.  
As a part of his speaking activities, he was also invited as a speaker at Yıldız Technical University and Istanbul Technical University – his Alma mater.
"It's a nostalgic experience, as three and half years ago. I used to sit in these classrooms and could gain my passion for engineering and the future," he says. In addition to his public speaking activities, Tugay says he is motivated to undergo training in other various research areas.
A COLORFUL LIFE
To keep his innovative mindset alive, Tugay renews his perspective through new people, cultures, and new places. He enjoys traveling, history, art, and philosophy. "I like to learn from global thinkers, writers, and artists whose ancient works are relevant even today," he says.
Among his other favorite activities are tasting local cuisines of countries he travels to and capturing people and cultures with his camera. He also dabbles in extreme sports such as snowboarding and kitesurfing and loves gaining perspective about nature, its extreme conditions, and vitality.
IN THE PLACE A MAN CAN GROW
Innovative people are an essential part of Siemens Advanta legacy – and that became very clear to Tugay as early as during his internship as Electronics and Communication Engineering student. Here in Siemens, we are passionate about digitalizing the world around us and actively innovators to grow their passions. These values and goals are mirrored in Tugay's experience with Siemens Advanta:
"Siemens has been an innovation pioneer for 175 years for a reason. The innovative working environment, global vision, R&D incentives, and dynamic projects are the reason why I consider Siemens my dream company, and I am happy to be part of the Siemens Advanta family."  
Do you want to work in a friendly environment with meaningful and diverse projects?